When you enable Card Controls & Alerts through the Fulton Savings Bank Mobile Banking App, you control when, where and how your Fulton Savings Bank's Debit Card can be used. Card controls and Alerts allow you to control your spending while providing additional security. It's easy too! With one switch you can freeze and unfreeze along with many other options.
Try it yourself and turn on the power of Card Controls & Alerts.
Cant Find Your Debit Card?
If your debit card is ever misplaced or stolen, you can take control by quickly turning your card off with the touch of a button. Once your card is off, we won't allow purchases or withdrawals to happen. If you find your card, simply turn it back on just as easily and resume using your card.
---
Where Your Debit Card is Being Used
You can set location control preferences to define the geographic regions where your card can and cannot be used. Using your phone's GPS and the My Location feature, you can have your debit card active only within the vicinity of your phone. You can also use a map to choose the specific regions where you'd like to restrict card usage.
---
Transaction and Merchant Types
You can set preferences to monitor transactions within specific merchant categories such as groceries, gas stations, entertainment, or travel. You can also disable transactions types like eCommerce, to prevent online shopping, phone orders or ATM.
---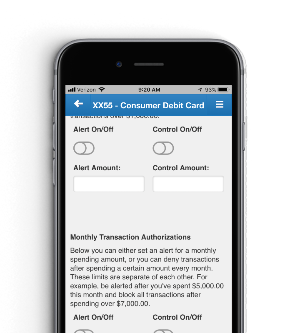 Creating Your Budget
Need help staying on budget? Create a threshold amount to control overspending or limit transactions over a certain amount. This can help keep your regular spending in check.
---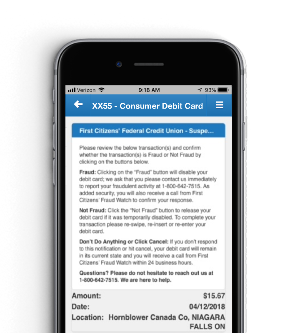 Peace of Mind
Receive notifications on all of your debit card transactions, or if you prefer, just a few or none at all. Most importantly, you can receive alerts for any questionable transactions and easily accept the transaction as fraud, or quickly decline if it is not!
Have Questions About Card Controls and Alerts?