Apple Pay® is the easy, secure way to pay with your Fulton Savings Bank Mastercard.*
Add Your Card to Apple Pay® in Three Simple Steps:
Open the Wallet app.
Tap the plus sign in the upper right corner.
Enter your card's security code to add your credit or debit card affiliated with your iTunes® account. Or, select "Add a different card," and use your iPhone® camera to scan the card information.
---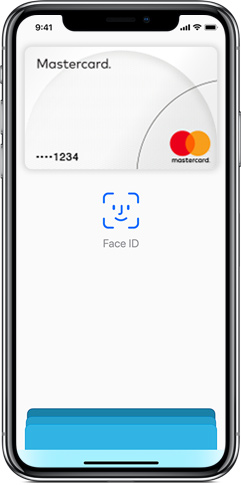 Paying in Stores
Apple Pay® is the easy, secure way to pay in stores, in apps, and online with your iPhone, Apple Watch®, and iPad®. You can quickly check out with Touch ID® or Face ID® using the devices you carry every day.*
Paying in Apps & on The Web
Use Apple Pay® to make purchases in all kinds of apps on your iPhone and iPad. Paying is as simple as selecting Apple Pay® at checkout and completing the payment using Face ID or Touch ID.
Apple Pay® is also the easy, secure way to pay online in Safari® on your iPhone, iPad, and Mac®, as you no longer have to create an account or fill out lengthy forms. Simply pay and go. You can also pay on your MacBook Pro® using Touch ID.*
---
It's Secure & Private
When you add your Fulton Savings Bank Mastercard to Apple Pay®, it assigns a unique Device Account Number instead of your actual card number.
Plus, you can also get added peace of mind with the other security benefits that come with your card – such as Zero Liability Protection** and Mastercard ID Theft Protection™.
Accepted in Great Stores
Look for the contactless symbol when you want to make in-store purchases. Learn More
---
Surprising Benefits... Only for Mastercard Cardholders
When you pay using your Fulton Savings Bank Mastercard with Apple Pay®, you could be surprised. Mastercard has already surprised tens of thousands of cardholders. You could be next. Plus, you still get all the rewards and benefits your card provides.